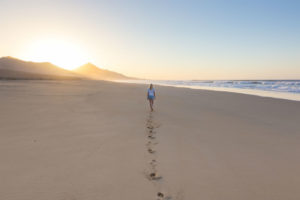 "I may not have gone where I intended to go, but I think I've ended up where I needed to be."
Becoming single and pregnant at a young age was never my plan. But in hindsight, it's the best thing that ever happened to me. It changed me into the person I am today, and I'm proud of that. I truly believe that my pregnancy was meant to be.
"Unplanned does not mean unwanted or unloved. It just means life knew what I needed before I did."
A big mistake that many people make is confusing unexpected and unwanted. Simply because I didn't expect to become pregnant didn't mean I didn't love my baby with all my heart. She was just the blessing I needed, even though I didn't know it at the time.
"Life is what happens when you're busy making other plans." – John Lennon
No one ever thinks "Hey, I think I'm going to get pregnant unexpectedly." I sure didn't; I had planned on going to college, getting married, and living a picture-perfect life. My pregnancy changed all that, but my life has been made so much better for it.
"A woman experiencing an unplanned pregnancy also deserves to experience unplanned joy." – Patricia Heaton
Having an unexpected pregnancy doesn't mean you don't deserve to live a happy, normal life. Your worth is not made less by the fact that you are pregnant; it makes you even more beautiful and special.
"You will come to know that what appears today to be a sacrifice will prove instead to be the greatest investment you will ever make." 
Making lifestyle changes, sacrificing your body, your emotions, and your time are all big sacrifices. But in the end, when you are holding your beautiful little baby in your arms, it will be worth it.
"I'm not telling you it's going to be easy; I'm telling you it's going to be worth it."
Pregnancies are never easy, whether they were planned or not. But creating a life within you is an incredible experience that is worth all the pain in the end.
"You are braver than you believe, stronger than you seem, and smarter than you think." – A.A. Milne
You've got this, mama.
"It's going to be okay."
This one is from me. If I could do it, so can you. Hold on, don't give up. You are going to make it.
If you are unexpectedly pregnant, please consider adoption. Visit Adoption.com to view adoption profiles from hopeful adoptive parents. Visit Adoption.com/unplanned-pregnancy to find guidance with your unplanned pregnancy.